The Rider's Handbook
Parking and other rules

Motorcycle parking
Parking rules and restrictions apply to all vehicles including motorcycles. However, a motorcycle may park at an angle.
A motorcycle is generally more stable when parked facing up a slope.
It is recommended that a motorcycle is parked with the rear tyre facing into the curb. This will position the front of the machine facing up the slope (or camber) of the road for added stability and allow the rider to mount the machine and search the road for approaching vehicles and hazards before entering the traffic flow.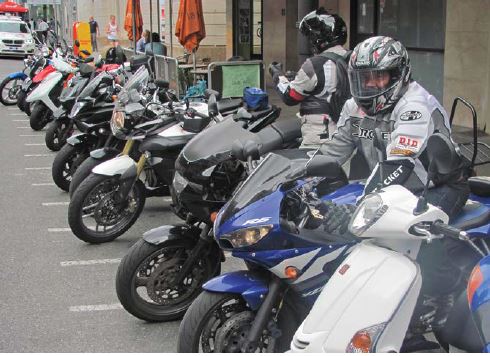 Lane filtering
Lane filtering is permitted in South Australia.
Motorcycle lane filtering is only allowed when safe to do so by experienced motorcycle licence holders. L or P1 riders, or moped riders who only hold a car licence are not allowed to lane filter.
Lane filtering is not allowed at speeds greater than 30 km/h, in school zones, in special purpose lanes (such as bike lanes and bus lanes) or next to the kerb or parked vehicles.Motorcyclists must comply with all road rules and heavy penalties apply for unlawful lane filtering.
The following video explains lane filtering.
Other road rules
Motorcycle riders are allowed:
to not wear a helmet when pushing a motorcycle if the engine is not operating and it is safe to do so (for example, to allow filling up at petrol stations)
to stand up on the footrest or footrests if it is safe to do so
to remove a foot from a footrest (not both feet at the same time) if it is safe to do so.
More information about the road rules and related penalties in South Australia can be found in The Driver's Handbook and the South Australian Legislation website.