My car licence
International drivers
In Australia, motorists drive on the left-hand side of the road. For visitors that come from countries where motorists drive on the right-hand side of the road this change in driving patterns can cause disorientation.

As a reminder, consider printing the DRIVE ON LEFT in Australia card on this page and put it in your car where you can see it. You can also ask your hire car provider, tourism outlet or any Service SA customer service centre for a card and information about driving in SA. If you are a SA company providing services to visitors you can order Drive on Left and road rule promotions here.

To get used to the feeling of driving left, try our online hazard perception test to get used to driving scenarios.

Find out more about road rules and road safety tips for international visitors in the tabs below.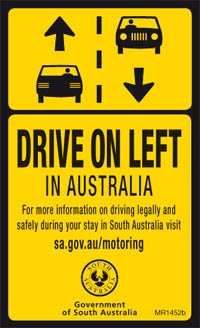 Driving in South Australia



SA driver's licence laws

Short term visitors with temporary visas can drive in SA but must only drive the type of vehicle authorised by their licence. You must carry a current driver's licence issued interstate or overseas at all times. If the licence is not in English you must carry an International Driving Permit or an English translation.

If the licence expires whilst you are here or you become a permanent resident you must apply for a SA driver's licence.




Keep left

In Australia, you must drive on the left side of two-way roads. Ask passengers to remind you each time you set off and when you are turning at an intersection – it could save your life. When walking across the road, remember to look right, left and right again for traffic and cross only when safe to do so.




Seatbelts and helmets

Seatbelts and child restraints must be worn where available in vehicles. Seatbelts reduce the risk of injury and death in a crash significantly. There are also heavy fines for not wearing a seatbelt or restraint.

If you are riding on a motorcycle, moped, motor scooter or bicycle, (also non-motorised scooter in Victoria and South Australia) you must wear a crash helmet.




Signs

This sign means you must stop and give way to all vehicles. Stop your vehicle just before the white stop line painted on the road. If there is no line, stop where you have a clear view of approaching traffic and give way to all vehicles approaching from your left and right.




Speed

Speed limits are strictly enforced in Australia. The speed limit is the maximum driving speed allowed. You must not drive above this limit. Some roads and streets don't have speed limit signs, but speed limits still apply. As a general rule on roads where there are no signs but there are street lights or houses or other closely spaced buildings next to the road, the speed limit is 50 km/h. Where there are no signs or street lighting or houses or buildings next to the road the speed limit is a maximum of 100 km/h in most states and territories. If the weather is poor (raining, fog) make sure you drive slower. All states and territories have mobile speed cameras, so slow down, drive safely and avoid heavy fines.




Road markings

Where the centre line marking on the road is a single broken line, vehicles may cross the line to overtake when it is safe to do so. If the centre marking has two lines you must not overtake if the line closest to your vehicle is unbroken. Where arrows are painted on the road, you must only drive in the direction they indicate.




Alcohol and drugs

Driving after you have consumed alcohol is dangerous. Australia has strict laws and penalties on 'drink driving' and police actively enforce them through random breath testing programs. If you have a full driver's licence you must not drive if your blood alcohol level is 0.05 per cent or higher. At 0.05 per cent blood alcohol concentration, your risk of being involved in a crash doubles. Driving after taking drugs that affect your ability to drive is illegal in all states and territories; penalties are severe.




No mobile phones

You are not permitted to use a handheld mobile phone when driving. This includes making or receiving calls, sending a text message, playing games and/or web browsing.




Cyclists

Drivers must give a minimum of 1 metre when passing a cyclist where the speed limit is 60 km/h or less, or 1.5 metres over 60 km/h.




Driving tired

Many people die in crashes because the driver was tired. To avoid driving tired:

after a long flight, wait until you have adapted to sleeping normally at night,
particularly if time zones are crossed
share the driving with your licensed companions
take regular rest stops
don't try to drive too far in one day
if you're tired, pull the car over and have a short sleep

Rest areas are located every 80–120 kilometres on main roads for road users to pull over and rest when tired. Facilities may be limited but usually include seating, tables and shelter. If you are very tired the only cure is sleep.




Road conditions

Road conditions can vary from a sealed surface to gravel and dirt. Use a four-wheel drive vehicle on unsealed roads in remote areas. Be careful of holes, soft road edges, narrow roads with unstable edges, narrow bridges, changing surfaces and dusty roads. The environment can change rapidly. Always check on local road conditions before leaving major roads. Turn your vehicle's headlights on low beam during the day so vehicles can see you. Drive slowly on unsealed roads and take extra care – loose surfaces are unpredictable. If you drive off the side of the road, do not overcorrect but slow down and return to the road when the vehicle is travelling at a safe speed. Obey road closure signs.

Flooded roads

You may come across water on the road. Roads may be covered in water which appears shallow but can have a current strong enough to sweep your vehicle away. Wait until the water level drops or use an alternative route.




Driving in rural and remote Australia

Driving in rural and remote areas requires special driving skills and awareness of different conditions. Make sure your vehicle is in good working order and has been serviced recently. Always carry a spare tyre, tools and water. If travelling to remote areas off major highways take extra food, water, fuel and tyres. Our remote areas have few towns and facilities, often with large distances between them, so plan your trip. If travelling in remote areas or planning to leave major roads tell local police of your intended route.

Animals

Watch out for animals on the road such as kangaroos and emus. Livestock also graze on the side of unfenced roads. The most active time for many animals is sunrise and sunset. If an animal crosses in front of you, reduce speed safely and do not swerve violently or you may roll the vehicle.




Road trains

Huge trucks, known as road trains, can be the length of 10 cars. It can take up to 2.5 kilometres to overtake a road train at 100km/h. Also allow plenty of room before you overtake as they may sway from side to side as you overtake. Be prepared for the 'windrush' when passing as it can pull you towards the road train. When being overtaken by a road train, maintain your speed and don't move off the road. Only slow once the road train moves out to pass and make sure there is space for the road train between you and the vehicle in front of you.




If your vehicle breaks down

Do not leave your vehicle because it will provide you with shade and protection from the heat. Wait for help to come to you. Consider hiring appropriate emergency communication equipment, such as a satellite phone and an Emergency Position Indicating Radio Beacon (EPIRB) device.




Emergency assistance

000 is the number for emergency services in Australia.

They can connect you to Police, Ambulance or the Fire Brigade. You should only contact 000 in an emergency.
More information