Road rules
25km/h Emergency Services speed limit

Drivers are required to travel at 25 km/h when driving through an emergency service speed zone.
The 25 km/h Emergency Service Speed Zone applies on an area of road: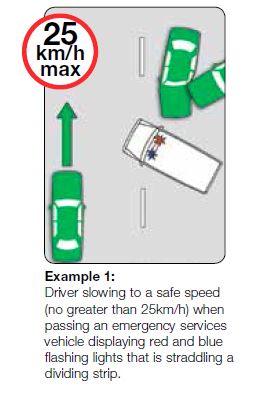 In the immediate vicinity of an emergency service vehicle that has stopped on the road and is displaying a flashing blue or red light; or
Between two sets of flashing blue or red lights that have been placed by an emergency worker at either end of a length of road on which an emergency vehicle has stopped.
It does not apply if you are driving on a road that is divided by a median strip and the emergency service speed zone is on the other side of the road beyond the median strip.
An emergency services vehicle includes:
Ambulance
Fire service vehicle (CFS, MFS or Federal Aviation Rescue)
State Emergency Services (SES) vehicle
Police.
The emergency service speed zone will help protect frontline workers and volunteers from the CFS, MFS, SES, Police and SA Ambulance while they carry out vital emergency work.
Volunteers and emergency services staff are often called on to provide life saving assistance at roadsides, or it may be that a police officer has pulled over to question a driver.
By slowing down, we can all help them to safely get on with their job.
More information: