The Driver's Handbook
Safer Vehicles

Safer vehicles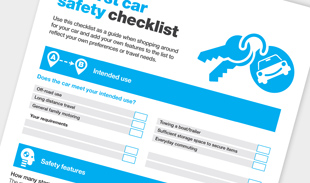 Buying a car, whether it's your first car or not, is a big responsibility.
It is important that your car offers you good protection from injury in a crash – but it is also important that your car offers good protection to other road users, such as pedestrians, cyclists, motorcyclists or the drivers of other cars involved in a crash.
Choosing a safe vehicle may be one of the most important decisions you will ever make. Driving a car that has recognised safety features and a high safety rating is an essential aspect in ensuring safer travel on our roads.
Buying a safe car doesn't mean you have to spend a lot of money or sacrifice the look you want. Below is a guide to help make buying a safe car easier.
Safety Ratings
It's important to check the safety rating before you buy a car.
For new and near new vehicles ANCAP (Australasian New Car Assessment Program) undertake crash tests on cars to gauge the level of occupant safety. New car safety is rated on a star system from one to five stars. Pedestrian safety provided by the car is also rated.
For more information on ANCAP star-rated vehicles, visit www.ancap.com.au
For second hand vehicles the Used Car Safety Ratings (UCSR) Buyer's Guide provides safety ratings for popular vehicle models in Australia and New Zealand. The Used Car Safety Ratings list is derived from reports of actual on-road crashes and represents the ability of the car to protect its driver.
The UCSR Buyers Guide (PDF, 1484 KB) provides you with the crash safety rating for used cars.
You can use safety ratings systems to compare the safety of different brands or models when buying a car. Ensure safety features are given priority when you decide to buy.
Even though a safer car will increase your safety in the case of an accident, it is your responsibility as a driver to maintain safe driving habits to prevent accidents occurring.
Buying a safe car
Safety features that may significantly reduce the risk of death or serious injury if you are involved in a crash include:
crumple zones
collapsible steering columns
reinforced door frames
front, side, curtain and knee airbags
seat belts designed to work with airbags.
Vehicle safety features are evolving. An increasing number of cars are being equipped with safety features and technologies that can help you avoid a crash in an emergency and these should be considered when purchasing a car. Some of these features are:
Electronic Stability Control (ESC) assists to stabilise the car during sudden moves and enhances vehicle handling on gravel and slippery roads.
Autonomous Emergency Braking (AEB) monitors the view ahead and detects obstructions in a vehicle's path. If the driver does not respond, the vehicle automatically applies the brakes
Lane Support Systems (LSS) can assist a driver in safely maintaining the intended path. These systems can automatically bring the vehicle back within the lane.
Blind spot detection warning alerts you to undetected cars, people or other objects in your vehicle's blind spots.
Young Drivers – My First Car
The My First Car Checklist (PDF, 109 KB) is a comprehensive list of safety features to help you evaluate the safety of the car you are potentially buying. You should buy the highest safety rated car that you can afford.
The safer vehicles page provides information on vehicles and a comparison by ANCAP rating.
If you are using a family car you should drive the safest car in the family.